We know that people are reluctant to face their own aging limitations.  We also know that very often seniors are not willing to spend money to improve their own comfort in their homes.  Taken together it's quite a challenge to get an aging senior to make needed changes for safety and convenience.   
   Many who plan on aging in place are simply not interested in remodeling their homes no matter how much more comfortable they'd be.  They would rather live with a barrier, or put together some temporary "fix", than pay to solve the problem.  I've lost count as to how many bathrooms I've walked into where a standard folding chair is balanced half in and half out of the bathtub, its purpose to aid someone no longer able to step into the tub to take a shower.  Needless to say, a precariously balanced metal folding chair is not an appropriate (or safe) solution.   
   So if we're to convince these seniors to make some changes for their own good, we need to start small, with modifications that can be accomplished quickly, without major disruption, and relatively inexpensively.  
   Let's start with the bathroom since it's the place in the home where most falls occur.
 1.  Add a seat to the shower or tub
 2.  Replace a stationary shower head with a hand held one
 3.  Create non-slip tiles throughout bathroom and shower/tub by applying non-skid 
    coatings readily available in tile stores
 4.  Install higher watt bulbs in fixtures to improve vision
 5.  Add grab bars to shower, tub, and toilet areas; colored grab bars are available if 
    needed to increase visibility
 6.  Remove scatter rugs 
 7.  Remove glass shower doors and replace with screw mount shower rod and shower 
    curtain
 8.  Replace door knob and faucet knobs with levered handles 
 9.  Replace door hinges with swing away hinges to increase doorway width
10.  Replace standard toilet with comfort height one making it easier to rise without loss of
    balance 
    Next is the kitchen where the goal is to eliminate stretching and bending as much as possible.
 1. Lower upper cabinet shelves where possible. Place dishes and often used items on an 
    easily reachable shelf
 2. Replace cabinet doorknobs with latches that open to the touch
 3. Increase lighting above the sink, stove and work areas
 4. Make sure there is a heat resistant surface adjacent to stove, oven and microwave to 
     place hot pots and dishes 
 5. Adjust refrigerator shelves so the lighter foods are placed on top, heavier ones at 
     waist level
 6.  Install single lever faucet at kitchen sink
 7 . Coat ceramic floor tiles with non-skid coatings
 8.  Remove or tape down throw rugs 
 9.  Place microwave on counter for easy access 
 10. Install pull out drawers and pop up shelves in bottom cabinets for heavier appliances, 
      eg. mixer 
 11. Make sure all appliances are working properly and controls are easy to read and/or 
      marked
 12. Store food in closed plastic containers for ease of selecting and carrying
     Other areas of the house. 
 1.  Install low profile thresholds or "ramps" wherever threshold exceeds ½"
 2. Install railings at any step, on both sides of stairs,  and along hallways
 3. Increase stair lighting 
 4. Install non-skid stair treads, especially to exterior stairs 
   What I've found with my own clients is that getting someone to accept the need to modify their home is a process that moves from denial, to reluctant acceptance, to reliance on the improvement.  Once we're able to convince a senior that the modification is necessary, they ultimately come to realize how it benefits their life.  It's a struggle, but it's worth it.    
  Susan Luxenberg
  President
  HomeSmart LLC
 I'm currently working with two different clients with a similar problem.  They each have a family member who is unable to manage stairs, yet they live in homes that have elevated front entrances.  The front door in one house is about 4' above the ground, and the other home's front door sits about 3' above the ground.  If they were to install ramps to bridge the elevation difference between sidewalk and front door that still retain a comfortable slope,  the ramps would need to extend anywhere from 36' – 40'.  A ramp that long in a small front yard would most likely take up the entire area in front of the house.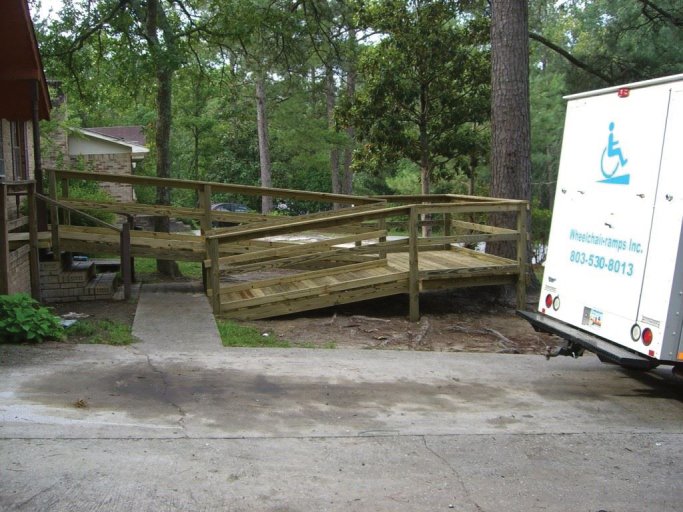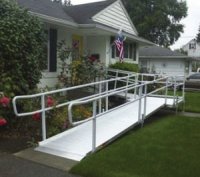 There is an alternate option when dealing with elevated entrances: the porch lift (aka the vertical lift).  A porch lift is a type of vertical platform lift which is normally installed outside to provide access to a porch or deck for a wheelchair or scooter user.  Porch lifts are equipped with a short metal ramp at the lift's entry point, which folds up when the lift is raised to provide a safety barrier that prevents the user from rolling off the lift platform while in use.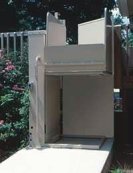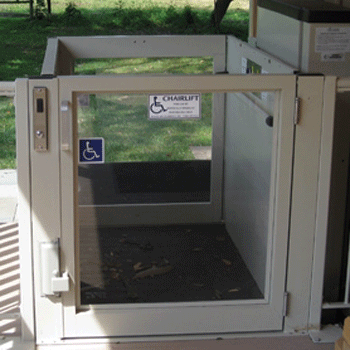 The user rolls onto the lift platform, presses the lift button to rise to the porch level, and then rolls off the lift onto the porch. 
Porch Lift Features  
Size and Capacity:  Not all lifts are built equal when it comes to the weight they can hold.  Before choosing a lift, know both the weight of the user, the weight of the wheelchair or scooter, and allow for any caregiver that might be along for the ride.  Most lifts have a 600 lb capacity, although a few will carry as much as 750 lbs. 
Travel heights:  There are lifts that allow for only 3' of travel and those that will allow for as much as 10' of travel.  Generally, you only need to purchase the shortest unit possible which will still give you the amount of travel height you need.  Since these lifts need to sit on concrete pads, if you are within a couple of inches of a lift's travel height,  select the shorter lift and thicken the concrete pad accordingly. 
Enclosures:  While these lifts are built to be used outside regardless of weather, most customers want an enclosure to keep the lift and the user out of the weather while in use.  Some of the lift companies offer enclosures, but it's really much more practical to install some covering yourself – either a roof or awning over the lift itself or a full enclosure. Building codes will dictate the structure you can build. 

Safety: When the lift platform is in the lowered position, there will be a dangerous drop off to the lift where the porch railing has been opened.  A self-closing gate needs to be installed to prevent anyone from accidentally falling off the porch.   
Controls:  Porch lifts have small control panels on the lift platform itself that usually house an emergency stop switch, an up and down switch and a key switch which turns the power on.  Because the unit will not work without the key being turned on, others cannot use the lift without the owner's permission. 
Some porch lifts include an option for call/send switches. These switches can be installed at the bottom and the top of the lift's travel. Having a switch at the top allows the lift to be sent down when not in use to prevent debris or snow buildup under the platform. Having a switch at both ends is useful if there is more than one person using the lift.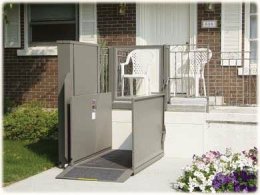 A porch lift is a simple accessibility solution that doesn't overwhelm your living environment or require extensive construction.  It's certainly an option worth investigating.
Susan Luxenberg
President
HomeSmart LLC
Today I need to rant a bit.  I just came from yet another home where the homeowners spent good money to replace their bathtub with a "walk-in" or "curb-less" shower.  The problem is that the showers I saw were anything but walk-in, since to enter the shower one had to step over a curb or threshold -  sometimes 4" high, sometimes 5" or more.  This might not seem like a big deal when you have no physical ailments, but many, many of the seniors I see have difficulty maneuvering anything they have to step over, let alone a 5" shower curb.   When I asked these homeowners how they came to this shower design, they each told me that that's what the contractor built when they asked for a walk-in shower.  
The homeowners themselves didn't have enough information to direct their contractors and consequently accepted whatever design was suggested.  It seems that even though more consumers are requesting curb-less showers, contractors are reluctant to build a shower without some curb for fear that if built otherwise, water will flow onto the bathroom floor and their customers will find fault with the installation.  Only after the jobs were finished did these homeowners realize that they still had some difficulty getting in and out of their new showers.  At the stage that I met them, most of these people were mobile.  It's easy to imagine the difficulties ahead should any one of them require a walker or wheelchair as they age.   
Replacing a conventional tub with a shower is a great bathroom renovation, but only if it's done properly.  The shower floor should be at the same level as the bathroom floor with nothing to step over when you walk from bathroom to shower.  The question then is: How does the water stay in the shower if there is no barrier, like a curb, to stop it?   Answer: The water can be contained when a trench drain is positioned at the shower's entrance and the shower floor is sloped to the drain.  A trench drain is a long, narrow trough, covered with a stainless steel, fiberglass or plastic grate.  Water is directed into the trough and into a standard drain.  Alternately, you could install a trench drain along the back wall of the shower and pitch the floor to that wall instead.  One of the benefits of trench drains is that other barriers to a shower layout, such as half walls or curbs, can be eliminated since these drains become an in-floor water barrier all by themselves.  You also can eliminate multiple slopes; a single slope to the drain is sufficient. 
It's easy to understand people's reluctance to accept a true barrier free shower since it's not been the way we've built residential showers in the past.  But then again, it's not until quite recently that we've thought about how we can adapt standard building and design elements to more universal design.  As the aging population swells, architects, designers, and contractors are taking a much closer look at floor plans and features that will meet the needs of this consumer group.  Trench drains have been used in the United States for a number of years in other applications (around swimming pools, patios and sidewalks, in commercial kitchens and labs)  and they are commonly accepted in residential applications throughout Europe.  And now that the trench drain is becoming more accepted for interior residential use here, manufacturers are becoming creative and offering  choices in drain covers so that the floor drain itself can integrate into a bathroom's design. 
Who knew that something as boring as a shower drain could become such a style statement?  
Here's a picture of a sloping trench drain as barrier between the wet shower floor and the dry bathroom floor.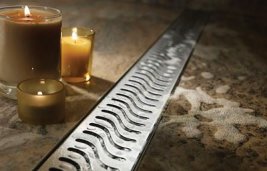 Here's another trench drain, seamlessly integrated between the shower and bathroom so that a chair can easily roll over the drain.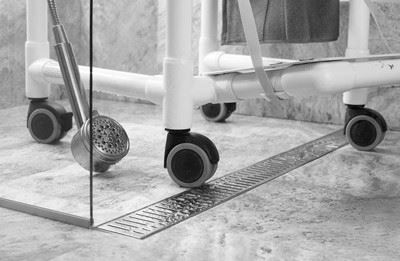 Want to make a color statement?  Not a problem. 

There's even a trench drain available,
QuaRTZ
,  that has an option to include rechargeable, LED lights attached to the back side of the grate. When water is present, the lights go on in whatever color you choose. When the water stops running into the drain, the lights go off.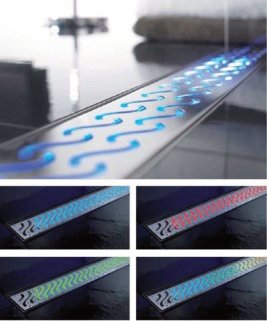 Regardless of the color or style you choose, trench drains are an important component of designing a true walk-in shower that you'll be able to use comfortably for however long you remain in your home. 
  Susan Luxenberg
  President
  HomeSmart LLC
For those who use a wheelchair or other mobility device, doors and doorways frequently present a challenge. 
DOORWAY WIDTH:  Although the standard interior doorway width is 32", many doorways are narrower and unable to accommodate a wheelchair or walker.  Particularly in older homes, bathroom doorways are often only 24" wide.  Given that a standard wheelchair is 24-27" wide you can easily imagine the problem.  If you take the wheelchair width,  allow an additional 1 ½" on both sides of the chair for finger clearance, then add a couple more inches for maneuvering anything other than a straight approach into the room,  a doorway needs to be minimally 32" and preferably 36" to allow for ease of entry.  So what are the solutions to the narrow door problem? 
1.  Replace the entire door and frame with a wider doorway.  This is the most costly solution and involves cutting the wall to accommodate a larger door – either a pocket (sliding) or swing door.  Depending on the size and layout of your bathroom, this solution may not even be possible because of vanity or fixture placement.  Opening up a doorway might also require moving the electric switches often found near the doorway entrance. Anticipated costs could run to $1,000 or more depending on your choice of door (pocket assembly, solid or hollow core, etc.) along with any electrical or plumbing shifts required.  
2.  Add Swing Away Hinges.  These hinges will replace the existing hinges on your door and enlarge the doorway opening by almost 2".   Depending on the size of the existing doorway, this may provide the necessary minimum width for a wheelchair to get through.  If clearance is still tight,  you may want to attach some plastic laminate to the doorway so the wheelchair won't damage it.   You can easily find these
hinges
online.  Prices range from $20 - $50/pair depending on the finish selected. 
3.  Remove the Door Stops.  The door stops are those narrow lengths of wood attached to the inside of the door jamb which are designed to create a stop for hinged doors when they close. By removing those stops you will add another ¾" clearance to the doorway.  Alternatively, you might want to cut back the stops so that they only are placed on the jamb 3-4' off the ground, allowing them at the top of the door but giving the clearance at the bottom where the wheelchair passes through. 
4.  Remove the door and door stops.  If privacy is not an issue, you can simply remove the pins from the hinges and lift off the door.  Or you can remove the hinges and other hardware, fill in the holes and repaint the doorframe.  By removing the existing door and stops you will gain an additional 2 ¼"-2 ¾" of clearance. 
DOOR HARDWARE:  It's not difficult to push open a door or pull it shut if there is no excessive weight involved and the hardware is easy to grasp. Most locks, however, require fine dexterity and finger strength making them difficult to use for anyone who has arthritis.  Lever hardware is preferable to any kind of small twist knob.  Push button locks or sliding bolts are fairly easy for anyone to operate.  There are also magnetic card readers, remote controlled locks and push-button activated combination locks available on the market,  all of which work wellfor most people. 
THRESHOLDS: Any change in floor level greater than ½" can create a tripping hazard.  Thresholds can be either ramped or removed so they do not create any type of barrier.  In many cases you may be able to install a small, beveled ramp that abuts the edge of the threshold.  Alternatively, you may need to remove the threshold which entails cutting or prying up the threshold material itself and filling in the floor, or replacing a taller threshold with one that has a lower profile. 
When deciding which doors to modify for accessibility, consider easy access through at least one entrance door and all doors along the route between your bedroom and kitchen, dining, bathroom, and living area.  Those doors leading to seldom used rooms like guest rooms may not need to be modified.
 Susan Luxenberg
 President

 HomeSmart LLC

You do not need to have aging infirmities or be a wheelchair user to be faced with a challenge when negotiating stairs.  Leg or back injuries can also make stair climbing painful if not impossible.  One of the best options for handling the stairways found both inside your home and out is a stair lift.
Stair lifts are chairs that ride on a rail up and down a staircase.  While stair lifts are usually not practical for wheelchair users, they are ideal for those with strength, balance, respiratory or cardiac problems.  The user approaches the chair, sits down, presses the button and off they go. 
There are many models of stair lifts but they all have basically the same features and operate the same way.  A standard installation involves bolting a rail to the stair treads (not the wall), attaching a chair to the rail, and mounting call/send switches at both the top and bottom of the staircase.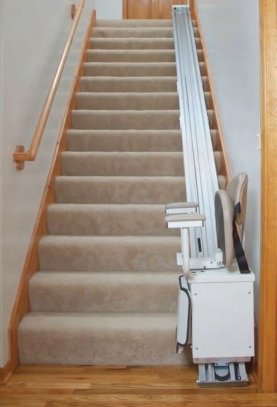 There are many different types of stair lifts: straight rail stair lifts, curved rail stair lifts, indoor as well as outdoor stair lifts.  They can be purchased new or used.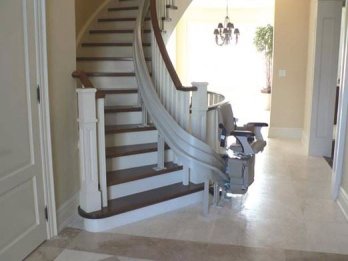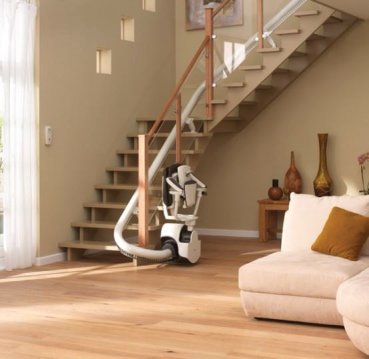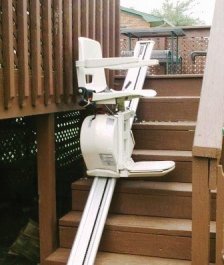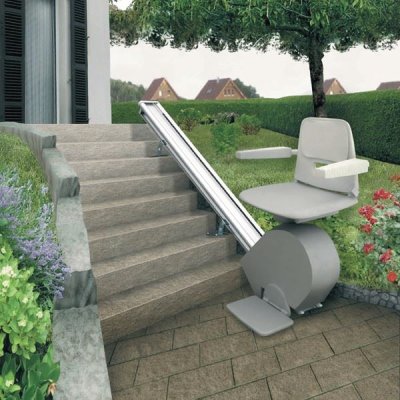 Stair lifts can be built for staircases with outside or inside curves and can also be set up to handle flat landings with turns.  Most stair lifts have a seat belt, locking swivel seats and safety switches which will stop the unit's travel if the stair lift comes in contact with obstacles, pets or people. Some manufacturers have folding hinged tracks that allow the track to fold out of the way when the stair lift is not being used.  The illustration below shows various workable configurations for stair lift equipment.  Basically they can be set up to work with any staircase.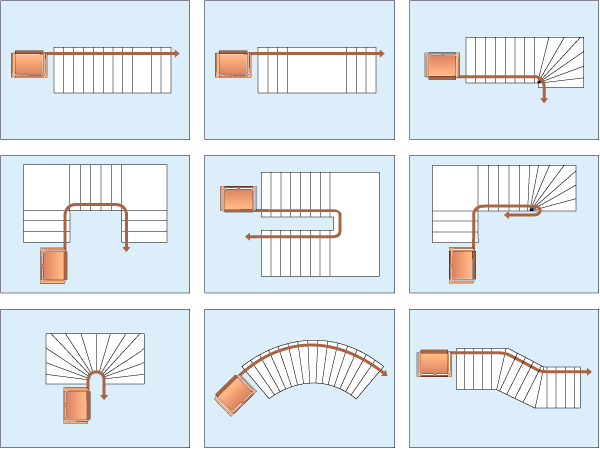 Stair lifts are no longer bulky pieces of equipment but rather have been redesigned to be as unobtrusive as possible and to fit in with your decor. You can now choose seat styles ranging from traditional to modern and select between upholstery fabrics and colors.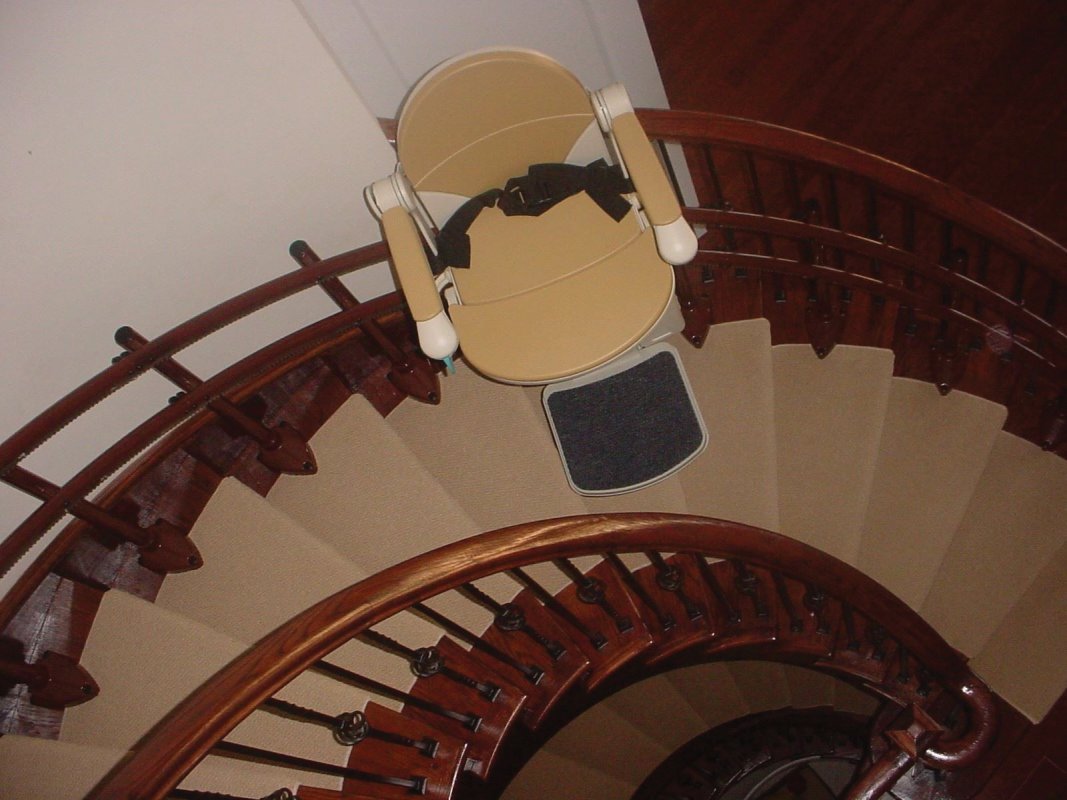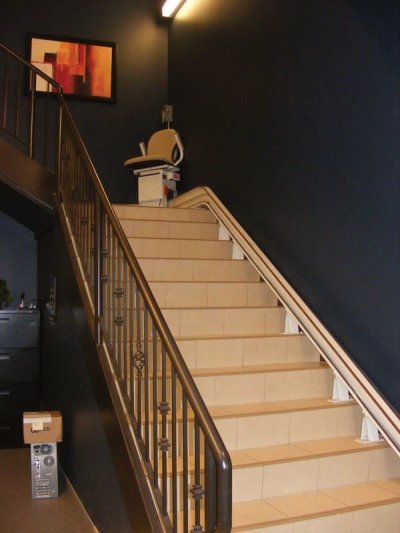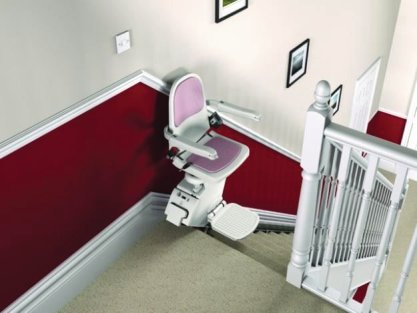 The costs of stair lifts vary and can range from about $1,500.00 to $3,000.00 for straight units and $5,000.00 to $20,000.00 for curved units.Stair lifts can also be rented for those whose physical condition is likely to deteriorate in the foreseeable future to the point where accessing the seat becomes impossible, or if you only need a short term solution. To be able to use a stair lift the user needs to be able to stand at least well enough to do a standing transfer on and off the seat at the top and bottom of the stairs.
Do your research first to determine those features you'd like – it's easy enough to get manufacturer's information and general pricing online.  Once you've found a company that installs the product you like, you can ask for their assistance in determining the appropriate configuration for your specific situation.
 Susan Luxenberg
 President
 HomeSmart LLC
The bathroom is the biggest safety hazard in our home.  It also presents the greatest challenge when designing access for those with limited mobility.  If you are building a new home or completely redesigning an existing bath, you often have the ability to enlarge the bathroom so as to make it more functional and accessible.  In an existing home, however, enlarging your bath might not be possible or might mean sacrificing an adjoining room. So how can you improve a conventional bathroom so that it becomes safer and easier to negotiate for all?
Below is a picture of a fairly standard bathroom – where all fixtures are lined up next to each other.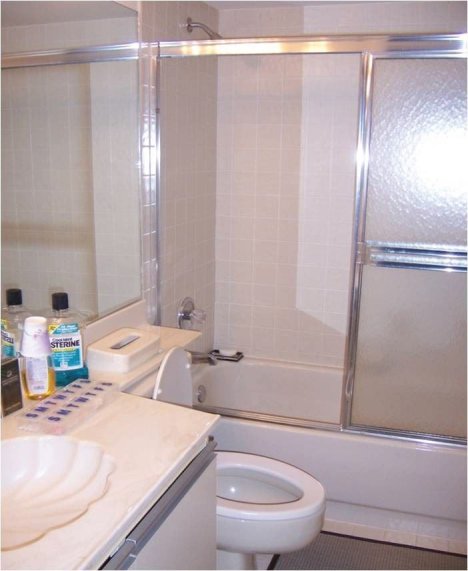 Looking at the picture above, let's identify those items that could be changed to update the bathroom and improve safety, accessibility and style.   
The tub can be removed and in its place, a shower with preferably no curb or a small curb can be installed so it can easily be stepped into.  You can purchase a pre-fabricated acrylic or fiberglass shower that will nicely fit the space of the old tub, or have a tiled shower built in that space.  The important thing is that the shower floor be at the same height as the bathroom floor so there are no steps to maneuver.
Don't forget to install grab bars in the shower. There are numerous choices of "designer" bars out there to complement your bathroom fixtures.
Check out the picture below.  These homeowners started off with the right idea by removing the tub and replacing it with a shower. But not only is there a curb to step over but also the shower floor is slightly lower than the bath floor – not by much but enough to cause a problem for someone with a knee injury or a mobility issue.  And while there are the correct number of grab bars  (one placed at the entrance to the shower and one along the long wall),  the diagonal bar is slanting in the wrong direction to be of any assistance when needed for help in getting up from the shower chair.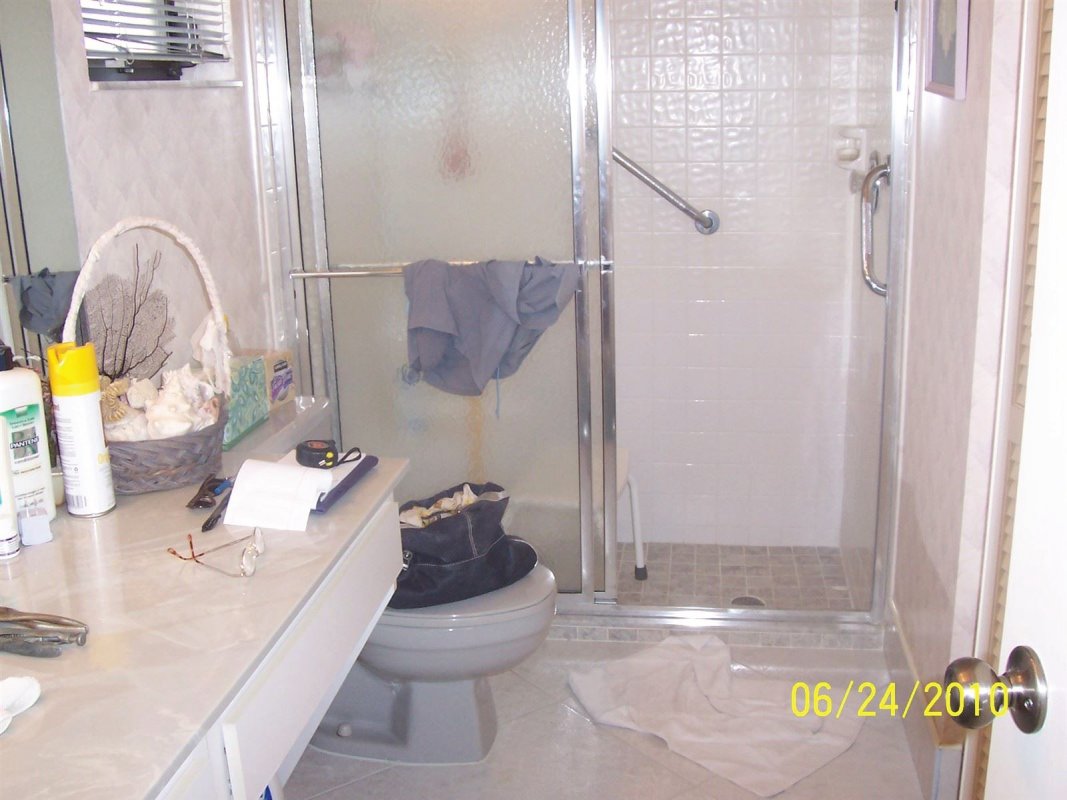 While grab bar placement depends on a number of factors including wall structure, plumbing layout, and each user's physical characteristics, there are general guidelines you can follow:  
On the short wall where you enter the tub/shower – install an 18"-36"  vertical bar no more than 9" from the edge of the outside tub wall, with the bottom of the grab bar approximately 32" to 36" above the floor.   
On the long wall –  either a 24" angled bar (helpful in getting up from a bath chair or tub floor) installed at a 45 degree angle, sloping up towards the shower head, with the lowest point approximately 9" above the rim of the tub OR  a 24" - 48" long grab bar,  installed horizontally 33" - 36" above the floor.   
Just don't assume your installer knows the right height for you. The best thing to do is to walk in and out of your tub or shower a few times to find a comfortable height before the bars are installed.   
Here are some more ways to update a conventional bathroom:
In new shower installations, select tile with a high anti-slip rating which is good for small children as well as adults. You can coat your existing floor tile with an anti-slip agent very inexpensively.  Check your local tile supply stores for these anti-slip coatings. 
Get rid of your old toilet and install a comfort height one.  They are a couple of inches taller than a standard toilet and make getting on and off much easier for anyone who is tall, has back or joint pain, or has diminished physical abilities. 
Look for some new vanity designs where the cabinets are open underneath, or consider a wall mounted sink  
Change your faucets to those with lever handles.  Faucets that have a single lever to control the water flow are best for people who have problems with their hands.  There are also new "touchless" faucets where the water starts to flow when you place your hands in front of a sensor.  These faucets are now available with prices ranging from $40 – $500+.  
The pictures below are all of small bathrooms that started with conventional layouts but have been stylishly renovated for comfort, safety and accessibility.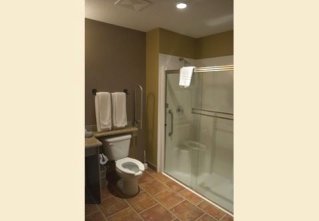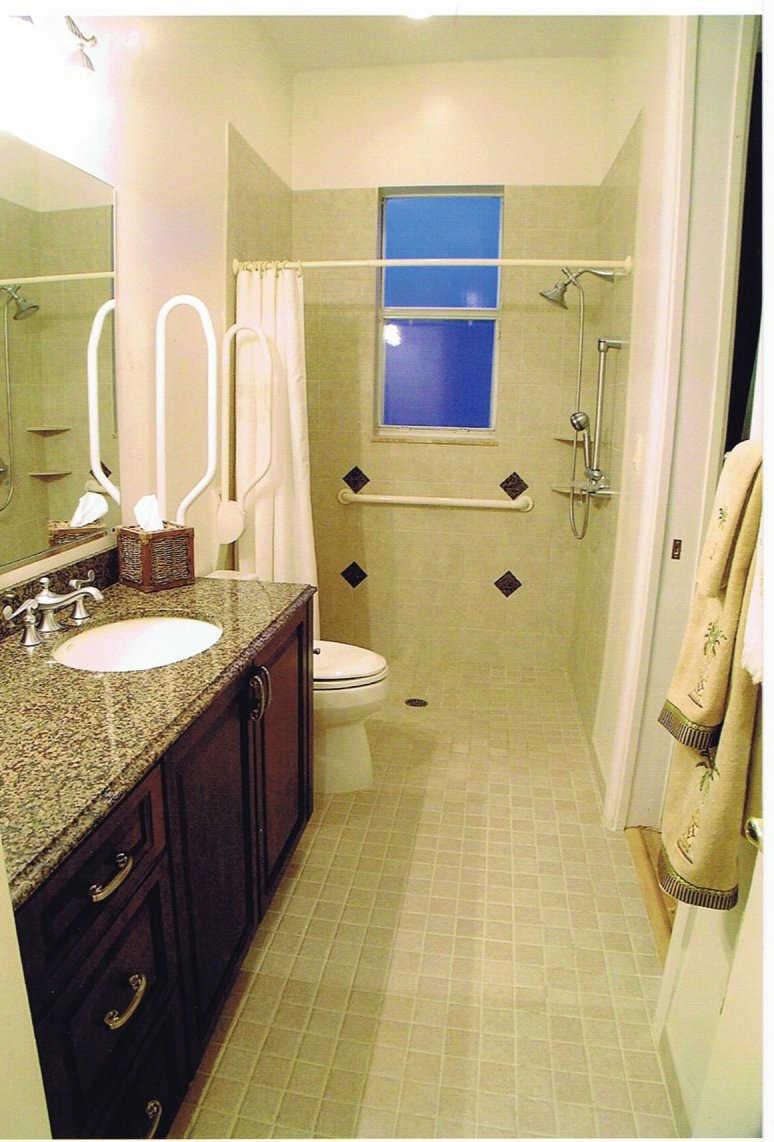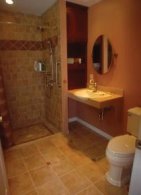 And one last thing.  While none of these pictures show entrances to the baths, bathroom doors - particularly in older homes - are often narrower than the other doors in the house.  Pocket doors, which slide into the wall rather than swinging open, can be used to increase doorway access but they are not inexpensive to install and involve construction.  They also are difficult for some people to physically open and close.  If you only need a couple more inches to make your doorway more accessible, a simpler, less expensive option is to use offset hinges.  Offset hinges will provide an additional 2" of clearance and are installed as a replacement to the existing door hinges.     
Susan Luxenberg
President
HomeSmart LLC
.
 As we talk about universal design and modifying our homes so that everyone in the family is comfortable and able to retain their independence, let's not forget to take a look at our closets.  
Closet rods are normally set at about 66" off the floor so if you're of average height or taller, you'll have no problem reaching them.  But what if you were a child or in a wheelchair?  Could you reach that rod?  In fact, closet rods set at 20-44" off the floor are better suited for everyone.  You can either lower existing rods, install additional rods at a lower height, or install add-on rods.  An add-on rod hooks on to an existing closet rod but hangs at a lower height.  The advantage of an add-on rod is that is can be easily removed should your needs change or you move.
For a more permanent solution you can install a pull or swing down rod. This rod is installed at the traditional 66" off the floor height but with the push of a button or by pulling a cord, the rod swings down to your level.  For maximum utilization of closet space, install a swing down rod at the same height as your current closet rod then re-install the existing rod at a lower height.
There are also numerous closet organizing systems that offer storage options at all height levels. You can choose either drawers or wire baskets to make storing certain items of clothing or accessories easier.  Make higher drawers shallow.  Lower drawers can be deeper.  If you choose wooden drawers, use d-shaped or u-shaped  handles that are easy to grip.  If someone in your home uses a wheelchair, keep the drawers no more than 30" off the floor. Also plan on adding some low, shallow shelves to your closet.  Shelves should be no more than 18" deep to prevent items from getting pushed to the back of the shelf and out of view.
Make sure your closet is well lit.  Get rid of that old ceiling light with a pull switch. You can even install lights that turn on automatically when the closet door is opened. And speaking of doors, make sure the closet doorway is at least 36" wide.  For easy of entry, either remove the door completely or replace it with side by side swinging doors or a pocket door that can slide inside the wall and out of the way.  If you are remodeling your bedroom area, try to include a walk-in closet. Both the doorway  and the center aisle of the closet should be 36" wide. That way anyone in a wheelchair is able to access clothes stored on both sides of the closet.
 Susan Luxenberg
 President
 HomeSmart LLC
What are some of the more interesting new gadgets that have come on the market designed for the Boomer consumer and their Senior parents?  
I've actually seen a Presto in use by one of my clients, an 83 yr. old woman whose family lived out of state.  The machine doesn't take up much room, is no larger than a normal sized printer, measures about 18" long x 15" wide and weighs approximately 13 lbs.  My client placed the Presto on one of her kitchen counters and was delighted to be able to receive pictures of her great grandchildren and notes from her daughter throughout the day. If I remember correctly, she even had crossword puzzles automatically delivered to her each day.
Between an increase in life expectancy, side effects of certain groups of medications, and noise exposure, hearing loss in the U.S. is increasing.  Occupational hearing loss remains a serious problem and recreational hearing loss from firearms, jet skis, snowmobiles, personal sound systems, etc. is on the rise.  According to the National Institutes of Health, approximately 1/3 of all hearing loss can be attributed to noise exposure (NIH 1990).  Clearsound has developed an appealing array of updated equipment for those with mild, moderate and severe hearing loss.  Wireless headsets, cell phone neck loops, portable phone amplifiers are all things that an aging Boomer would be familiar and comfortable with.
Medicine cartridges are programmed with the dosage and time the medication is to be taken. The dispenser sends visual and audible reminders for medication adherence with verification of completion and also provides three follow-up alerts to prevent missing a scheduled dosage.
Additionally, there has been an onslaught of remote monitoring technologies that address the need for on-premise continuous watching and fall detection.  The new technology can monitor motion and sound and send out periodic alerts to family or other caregivers.  These systems usually include simple, stylish devices worn in a variety of ways (on the wrist, around the waist or neck, on a belt) and utilize GPS and wireless technologies for tracking movement.  Caregivers are automatically notified if the wearer of the device falls. Look for Lifecomm (personal emergency response system), Sonamba (well-being status monitoring), BeClose (remote monitoring), Wellcore (fall detection), and Grandcare Systems (remote monitoring).
What remains to be seen is whether or not the Boomer market will actually purchase these products.  No one yet understands why those who are so ready to buy new computers, smart phones, ipads, digital cameras, and flat screen tv's are reluctant to spend money on motion detectors, remote care management devices and personal emergency systems either for themselves or their parents.  Aging-in-place technology has come a long way.  We now have to educate the consumer as to its benefits.
  President
  HomeSmart LLC
Let me be honest.  I hate that piece of equipment known as the toilet commode.  For those of you who don't know to what I'm referring, here's a picture: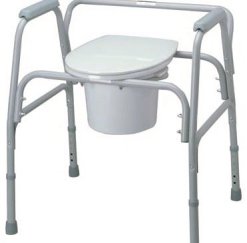 I believe the commode was originally designed to be used near a bed for those who could not make it into the bathroom (hence the portable potty), and for that use it's quite functional and appropriate.  However, the commode is also being used by people who are having difficulty raising and lowering themselves onto the toilet.  This unattractive apparatus is often placed over an existing toilet in order to raise the seat height and afford some stability while sitting and standing.  You'd be amazed at how many homes of Seniors I go into - of all financial means - where I find this particular piece of equipment.  And while I can appreciate the fact that the commode is prevalent because it is inexpensive and requires no professional installation, I'm surprised that so many find it an acceptable solution to the problem.  For me, the thought of walking into my bathroom every day and seeing this contraption over my toilet is simply depressing.
Fortunately, there are a couple of options to improve toilet height that actually combine function with design.  Numerous manufacturers now offer comfort height toilets which are about 2-2 1/2" higher than standard height ones.  Standard height bowls are about 14" from the floor plus seat, while the comfort height bowls are usually 16-17" from the floor plus seat.  The extra height really does make a huge difference in safety and comfort when attempting to sit or stand.  Ask anyone who's tall, has bad knees, or a bad back.  And most importantly, the cost difference between a standard and a comfort height toilet is minimal.
So which would you prefer to look at every day?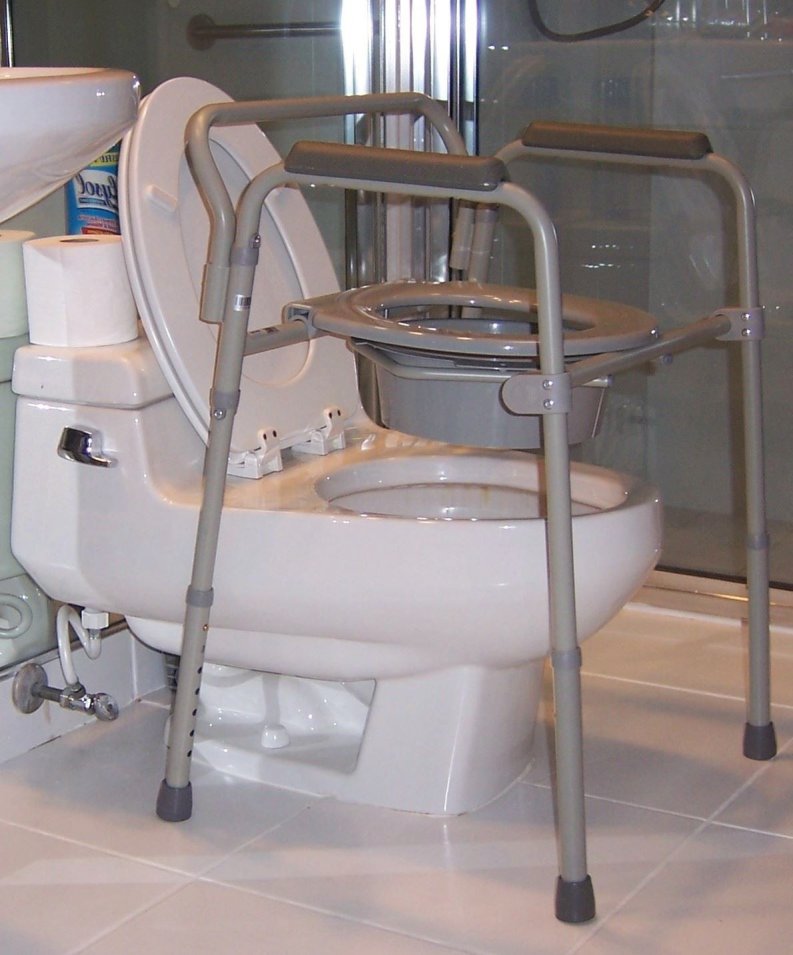 OR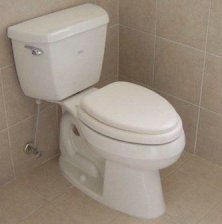 Commode placed over toilet   
                                                                                                                        Comfort height toilet
A wall hung toilet is still another way to raise toilet seat height.  During installation, the toilet can be set at a custom height for ease of use.  I particularly like the fact that they're easy to clean around.  Note though, that cost and installation of a wall hung toilet is more expensive than a comfort height one.  Would anyone guess that the bathroom below is designed specifically for someone with mobility issues?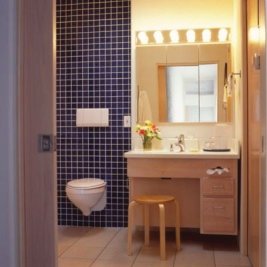 Wall hung toilet
And while I'm on the topic of bathroom equipment, another piece of equipment frequently found in homes is the shower chair.  This plastic and aluminum chair is designed to be placed in an existing tub or shower for those who want or need to sit while showering.  The only problem is that this chair takes up a lot of space in a standard sized tub, often needs to be shifted around when a spouse wants to shower or bathe, needs to be removed when cleaning the tub, and does nothing to enhance the style of the bathroom.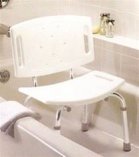 Instead, today's solution is a fold-down seat that can be installed on the back wall of the tub/shower.  When not in use, the seat folds back up against the wall and takes up no floor space.  When needed, however, it easily pulls down in place.  These seats are installed in the same way grab bars are installed - with heavy duty anchors to hold the seat securely in place.   Check these out: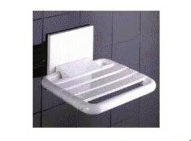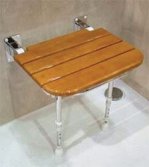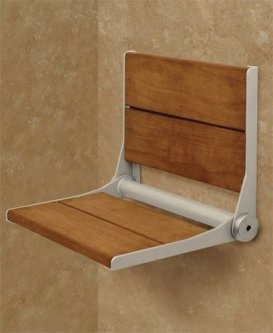 Replacing standard issue equipment with new plumbing fixtures and accessories can not only make a huge difference in the look of your bathroom but also in the way you feel.  Really - who wants to be reminded on a constant basis of their physical disabilities?  Happily we now have many product choices and no longer need to rely on the old standbys.  It should be our goal when renovating to accommodate aging in place that our homes stay design friendly and not deteriorate into repositories for free standing, temporary equipment.
 Susan Luxenberg
 President
 HomeSmart LLC                                    
Grab Bars.  Just those two little words send people running.  For some reason there is a stigma attached
to this very practical product. My older clients think grab bars are a mark of infirmity.  My younger
clients think they don't yet need them.  Truth is, all grab bars do is provide something solid to hold onto should your shower or tub floor get slippery.  Grab bars are a much safer alternative to the bars on your glass shower doors or the ceramic towel bars mounted in most bathtub/shower configurations.  If you
had to grab one of those shower door bars to keep yourself from falling, you'd most likely pull the door
onto yourself.  If you grabbed the standard wall-mounted ceramic towel bar, you'd pull it out
of the wall.  Neither scenario is a particularly pleasant one.
Maybe the aversion to grab bars results from the fact that the ones we mostly find in the local building supply stores are institutional looking: stainless steel, rounded and thick.  There are actually a number of new grab bar choices that can more stylishly integrate into your home design.
Let's start with color.  Grab bars now come in a range of colors including black, red, blue, green, yellow, pink, tan and white.   There's nothing institutional about these bars:
Not only does a colored bar liven up the bathroom and offer some design opportunities, when placing a colored bar on a contrasting wall these bars can also be seen more easily by anyone who is visually impaired.
Next there are numerous finishes, in addition to polished chrome, to match the existing hardware in your bathroom.
Don't like the straight bars?  There are some interesting shapes to choose from. 
This grab bar folds back to the wall
And also varied functional combinations.
Here's a circular grab bar with an integrated soap dish
Here the grab bar has an attached towel bar
Remember though, that a grab bar is only as good as its' installation.  If not installed properly, it will
give you no more security than that shower door handle or ceramic towel bar.  There are special anchors
that can be used to mount a grab bar on a wall that does not have proper blocking.  Look for WingIts®, recognized as one of the world's strongest fasteners, which can be found in your local building supply
store or online.  These fasteners allow for grab bar placement virtually anywhere and can be installed through drywall, tile, acrylic or fiberglass tub surrounds.  The nice part is that these anchors eliminate
the need to tear open and reconstruct walls and substantially reduce the cost of proper grab bar installation.
 Susan Luxenberg
  President
  HomeSmart LLC
/