| | |
| --- | --- |
| Posted on March 11, 2012 at 6:53 PM | |
   When selecting material for a bathroom floor, it's really important that the floor stands up to water and offers a safe, non-slippery surface for wet feet.  Falls can happen anytime and anyplace to people of any age, but most falls by people aged 65 and older occur in the home during everyday activities.  Slippery bathroom floors are one of the culprits when it comes to falling at home. 
   So what are good flooring options for the bathroom? 
   Ceramic tiles are a practical choice given that they are relatively inexpensive, durable and water resistant.  Look for those that are textured and not glossy which will prevent the tile from becoming slippery.  Ceramic tiles come in many different shapes and colors which makes it easy to be creative with patterns or borders.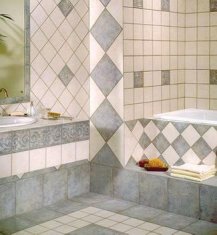 All a ceramic tile floor requires for cleaning is sweeping and light mopping.  A light water and vinegar solution is a safe and cost efficient cleaner that will not damage the tile.  Avoid steel wool or other rough materials that can scratch the surface of the tile.  Ceramic tile can chip or crack if something heavy is dropped on it so make sure to keep some extra tiles for repairs if needed.
   Traditional ceramic shower tiles are starting to be replaced with the rich earthy tones of natural stone tiles, a good fit for most bathroom renovations.  Natural stone has some benefit over ceramic tile, especially for more modern designs.  Natural stone is durable, resistant to wear and stains, and comes in a wide variety of colors and finishes.  There are many types of stone available each with its own characteristics.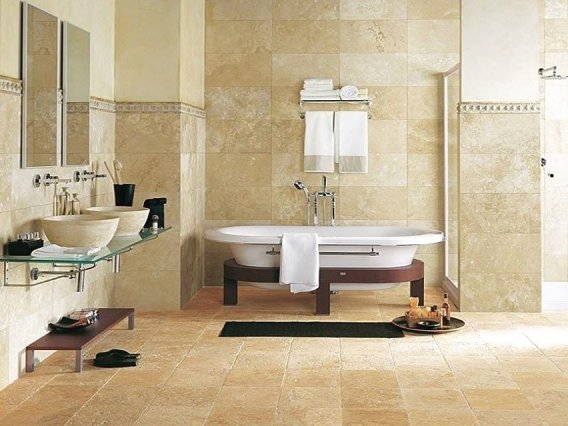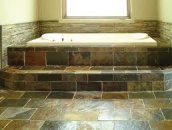 Slate
is a very durable stone and highly recommended for bathroom applications. It is easy to clean and with a little maintenance is almost completely impervious to stains.   Slate also has a rough texture, making even honed slate non slippery – a very important consideration for the bath.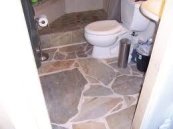 Quartzite
 is one of the hardest and most resilient stones available, whose colors range from repeating sequential patterns to multicolored unique formations, depending on the type of quartzite which is used. This stone is good in a bathroom because of its durability, its resistance to stains and water, and the fact that its texture makes it non-slippery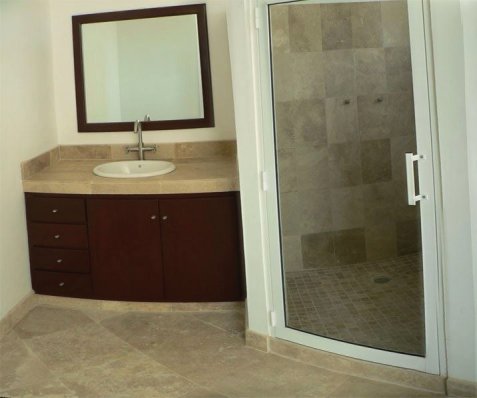 Limestone
and
Travertine 
are softer and more permeable then slate or granite. The patterns that emerge in these stones, while unique, are more repetitive than in multi-colors and so the range of any given color of stone is more subdued. This material is appropriate for bathroom use but it is not as good at resisting stains, nor as durable as either slate of quartzite.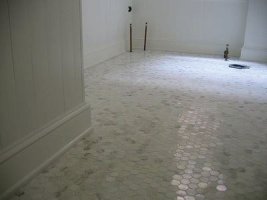 Marble
 is a classic stone that, in the past, has been used frequently to add elegance to a bathroom.  And while it's known for its color and high shine surface, it's exactly that high polish that becomes very slippery when wet.   Marble is also a delicate stone, prone to chipping and staining making it an impractical choice for the modern bathroom.   
   Natural stone can be cut and finished in any number of ways, giving you more flexibility in your designs and with the wide variety of stone available, you should take time to consider all of the options. While natural stone tile may be more expensive than ceramic tile, the beauty and durability are often worth the money. 
   Glass tiles are another choice for your bath and shower floors.  They are water resistant and long lasting with reflective properties that make the most of the light in any given space.  These are the tiles to use if you're looking to create an intricate mosaic pattern for your bath floor.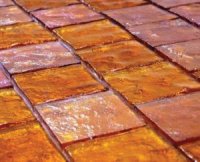 Unless treated, a normal glass tile is no different from polished porcelain tile in terms of skid resistance. Like any high gloss ceramic tile, glass tiles are usually slippery when wet.   If small format (1 × 1" or smaller) tiles are used on floors, the relatively frequent grout lines create texture that inhibit slippage.   For this reason, tile setters sometimes introduce un-textured glass tile mosaic inserts into fields of large ceramic tiles.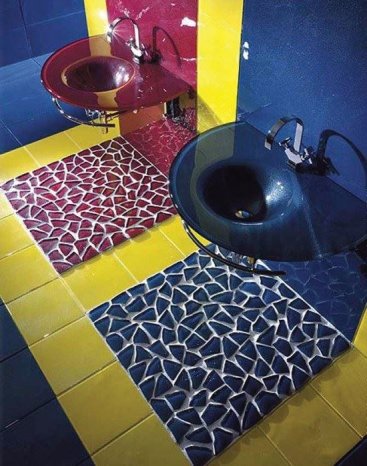 If you are using large glass field tiles on floors, you will need to choose a tile that is specifically floor-rated. Glass tile manufacturers all produce large format glass floor tiles. They are made with a textured surface that provides a high coefficient of friction, mitigating or eliminates slipping, while still delivering the luminous qualities of glass wall tiles. 
Vinyl tiles are an inexpensive, quick solution for those looking for easy do-it-yourself bathroom projects.  Vinyl tile is moisture resistant and available in a variety of patterns and colors.  Vinyl can be purchased as individual tiles or as a sheet cut to the dimensions of your bathroom floor.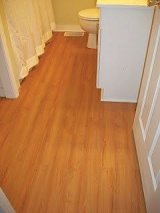 Vinyl tiles are usually 12" or 18" square and are available in all sorts of prints and styles.  There is vinyl that simulates hardwood flooring as well as that which resembles ceramic tiles. When installed properly, the effect of these tiles is identical to the original materials.  
Vinyl tiles are usually coated with a form of urethane which gives them a shiny finish and protects the tiles from wear and tear.  Look for vinyl tiles with textures so that the floor does not get too slick when wet.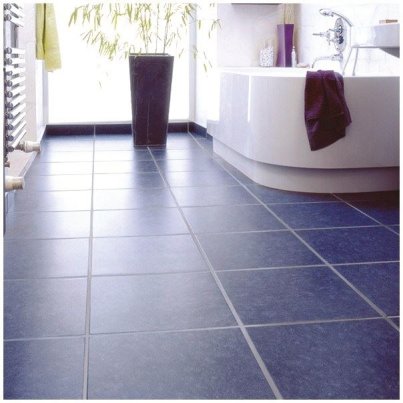 Vinyl flooring can be wet mopped without fear of damaging the surface. Because the surface is impermeable, liquid will not seep into the floor, so mold and mildew is also not a problem. Consequently, vinyl flooring is a perfect choice for areas that are prone to spills and moisture such as bathrooms. 
 Susan Luxenberg
 President
 HomeSmart LLC
Categories: Homes for a Lifetime
/