| | |
| --- | --- |
| Posted on March 18, 2012 at 3:05 PM | |
Question:  I plan to renovate my guest room and bath for my elderly mother who frequently comes to visit.  I had intended to remove the bathtub in that bathroom and install a walk in shower for her but she prefers a bathtub over a shower so I'm now uncertain what to do.  I don't want to spend money renovating the bathroom only to have to renovate again in the future.  Are there bathtubs that work with the idea of aging in place or should I try to convince her that a walk in shower is the better long term choice? 
Answer:  Walk in showers are great for everyone, young and old, but there are a few bathtub options that will also work for your mother and are designed for aging in place.   
   There are walk in tubs that you get into through a door in the tub wall.  Once inside the tub, the door latches shut and seals tightly so you can fill the tub with water. There are a number of manufacturers offering walk in tubs with varied features, such as hand sprays, grab bars, anti scald valves, locking mechanisms, hydro jets, etc.   Not all walk-in tubs are the equal so it's important to research what each manufacturer has to offer.  There are tubs with inward swinging doors and those with outward swing.  There are larger tubs and smaller tubs to suit different areas of the home.  There are tubs with dual drainage systems, presumably to drain water faster, and those with single drains.  You can easily familiarize yourself with these products by researching online.  Walk in tubs are also not flush to the bathroom floor so while they only present a small step, there still is a need to step over a small threshold in order to enter the tub. The big negative to a walk in tub is that you can't get out of the tub until all the water drains out.  So if this is the option you choose, I'd suggest also installing a heat lamp above the tub to take the chill off while waiting for the tub to drain.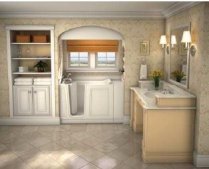 A less costly option is a standard tub that has a ledge built into the side.  Rather than climbing over the tub wall (a task that gets increasingly difficult as we age), you sit on the ledge and swing your legs into the tub.  Some bathtub manufacturers are now including an option for grab bars to help with getting up and down in the tub.  Alternately, grab bars could be mounted on the wall within easy reach when sitting in the tub.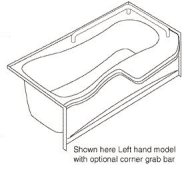 If your tub is in good shape or you do not want to replace it at this time, there are bath lifts that fit right into the tub and raise and lower into the bath via a remote control.  The only problem with this option is that you're basically dedicating your tub to bathing and not showering because the lifts are too cumbersome to be taken in and out of a tub easily.  For that reason, you might consider adding a hand held shower head low enough on the wall so as to be reachable while sitting in the tub. 
Of course we cannot predict what's physically in store for any of us as we age.  If built properly, walk-in or curb-less showers are an optimal solution because one could easily get into the shower in a wheelchair, if necessary.  But then again, not all curb-less in showers are equal either. All too many "curb-less" showers are built with 4"-6" curbs, which doesn't really solve any problem for someone who can't step over a threshold or manage a step. The other issue has to do with size.  I recently was asked to redesign a curb-less shower that  replaced a 29" x 59" bathtub.  The space was so constrained that it was impossible for the owner, a large man in a large wheelchair, to comfortably maneuver the shower space and keep water in the shower rather than all over the bathroom.  
Recommended minimum dimensions for a residential walk in shower are 36" width x 60" length.  42" width is better and 48" width is ideal.  However, there are people who prefer larger showers and others who need assistance while bathing.  A shower 5 feet by 5 feet allows enough space for a person in a shower wheelchair and an aide.  So if you're working against space constraints and don't have sufficient room to build a shower that meets minimum requirements, a curb-less shower is not the answer and one of the tub options might, in fact, be best.
 Susan Luxenberg
 President
 HomeSmart LLC
Categories: Fixing To Stay
/