| | |
| --- | --- |
| Posted on June 24, 2012 at 3:39 PM | |
Question:  We are about to remodel our kitchen and want to incorporate universal design ideas for aging in place. We've read that we will need increased room lighting, but we don't know how standard lighting is calculated let alone increased lighting.  Can you give us an idea of how to determine correct lighting for our new kitchen?
Answer: A well-lit kitchen layers and blends four different types of light: general or ambient lighting in the ceiling, task lighting over sink, cooking and work areas, display lighting in cabinets, and possibly some decorative lighting, like lamps, chandeliers, or wall sconces. The most important lighting to consider for the purposes of aging in place is both general and task lighting.
I recently worked with clients who also were remodeling their kitchen. They had already gone to a kitchen designer/contractor for a new layout but wanted me to review their plans with an eye towards aging in place, and one of the questions that came up was that of adequate lighting.  
My clients' windowless, 10' x 12', galley kitchen had a single ceiling fixture and there was no task lighting at all.  And while the new plan called for under cabinet lighting, there was no plan to change, or add to, the ceiling lighting
After researching the question of illumination levels, I found the simplest calculation to be 8.5 lumens per square foot – walls, ceiling, and floor included.  This calculation pertains to general lighting levels only and excludes any under cabinet lighting, which is considered to be task lighting.   
So here's an example:
A 10' x 15' by 8' kitchen has a walls/floor/ceiling surface area of around 700 square feet.  An 8.5 in/sf target suggests you might want to build in the capacity to generate at least 5950 total lumens.  A basic 50 watt PAR 30 bulb produces about 660 lumens, so I'd use about 9 of them to light up that kitchen.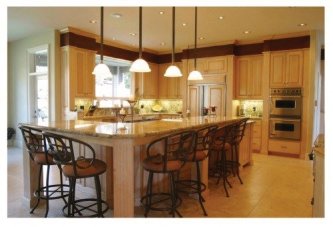 As for task lighting, islands, areas over the sink and stove, and counter tops require more concentrated, direct lighting since they are work areas.  Every section of kitchen counter top needs task lighting. Such lighting can be provided by under cabinet lighting attached to the wall cabinets or by small pendant  
fixtures.  When planning for task lighting, remember to allow for separate switches rather than a single switch which will allow you to turn on only that counter top lighting that you need rather than all the fixtures at once.   
   Susan Luxenberg 
  President
  HomeSmart LLC
Categories: Fixing To Stay
/